Mft. year 2005-2006. Models RV-6S /RV-12S R

MELFA RV-S series robots provide solutions for value added systems.
Compact, with greater speed, higher payload, and amazing rigidity.

Fastest robots in their class with composite speeds up to 9.6 m/s (RV-12S).

It is possible to improve tact time and perform multiple, complex operations in one station.
High payload capacity up to 12 kg.

A high payload capacity was achieved by incorporating hollow-structure motors, specifically designed for robot applications.
More sophisticated, complex end of arm tooling is also supported.

High Precision Motion Control
Improved motion control through the use of a rigid arm design, and forward feed optimal trajectory control.
Hardened to withstand environmental conditions - [arm IP65; body IP54]
The rotating joints and reduction gears are sealed within the motor's hollow structure, allowing S-Series robots to be used in almost any environmental condition for a multitude of applications.
Space saving
By incorporating the reduction gears and bearings within the hollow structure of the motors, incredible space savings were realized making the S-series our most compact robots yet.
Sophisticated
With true multi-tasking capability, additional axis control, and many other features, the robots are ready for any task.

Drive System: AC servo motor (brakes for all axis)

Position detectionmethod: Absolute encoder
Arm lenght:
696 mm model RV-6SL
1086 mm RV-12S
Payload: 6/12 kg
Operating range in º:
Axis 1: 340 (+-170)
Axis 2: 227 (-92 to +135)
Axis 3: 290 (+160 to -130)
Axis 4: 320 (+-160)
Axis 5: 240 (+-120)
Axis 6: 720 (+-360)
Maximun speed in degrees/sec:
Axis 1: 250/276
Axis 2: 267/230
Axis 3: 267/267
Axis 4: 352/352
Axis 5: 450/375
Axis 6: 660/660

Maximum composite speed (mm/sec): 8500/9600
Average cycle time in sec: 0,6/0,7
Position repeatibility: +-0,02/+-0,05 mm
Weight: 60/93 kg
Robot Info:
Maximum Load of Robot: 6/12Kg.
Maximum Reach: 696/1086 mm.
Repeatability: 0,02/0,05 mm.
Controller: CR2B-514
Robot Motion Speed:
Axis 1: 250º/seg
Axis 2: 267º/seg
Axis 3: 267º/seg
Axis 4: 352º/seg
Axis 5: 450º/seg
Axis 6: 660º/seg
Robot Applications:
Assembly
Cleaning/Spraying
Machine tending
Material handling
Packing
Deburring
View full details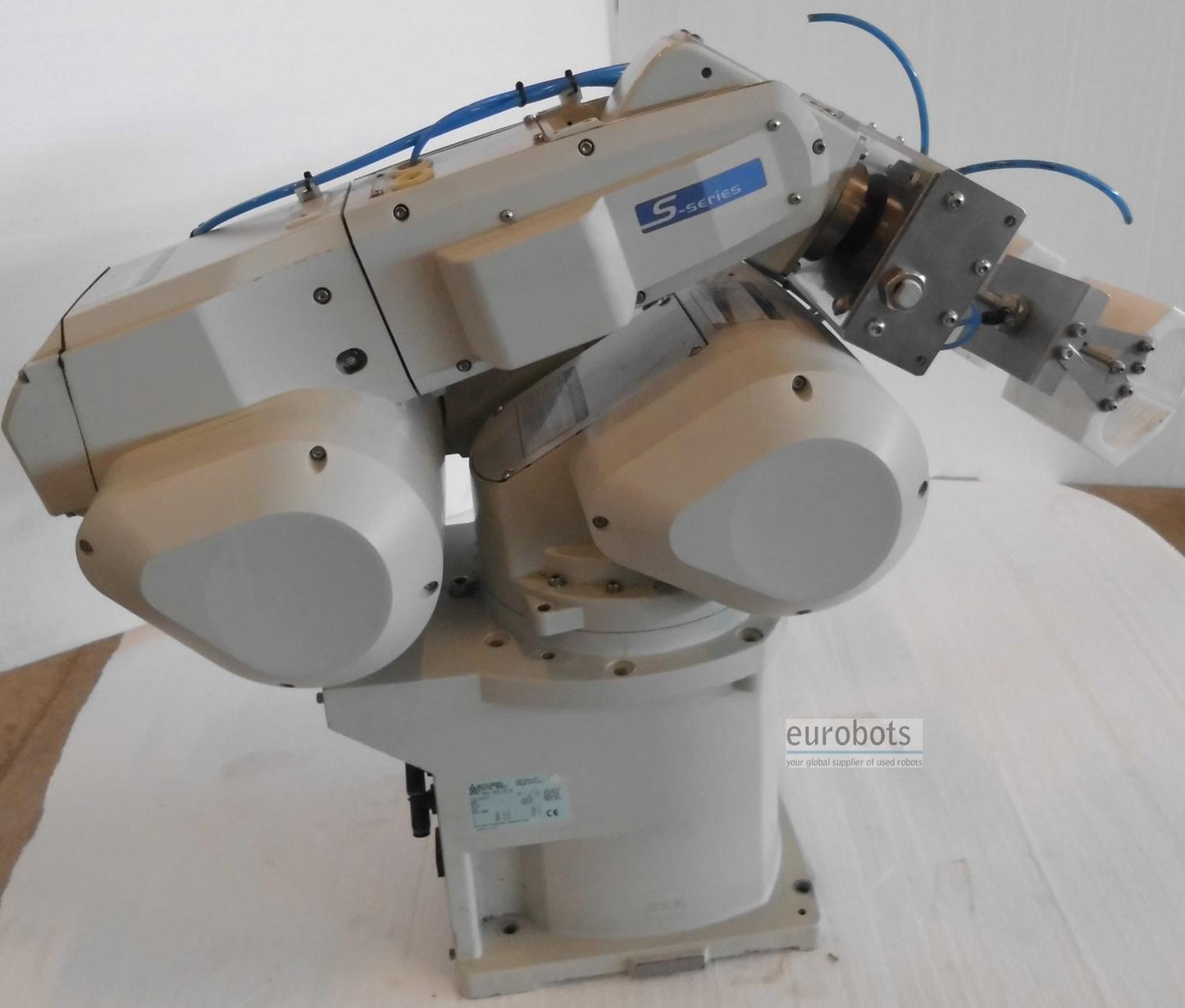 Choosing a selection results in a full page refresh.
Opens in a new window.