Year 2012. Six axis industrial robot with a large working envelope featuring 2980 mm horizontal arm reach and 110 kg payload. This robot belongs to the latest NJ series which is currently for sale from the manufacturer. This robot is fast robot which does not require any additional mechanical counterbalance system in axis number 2 because of its light and slim strucure. Easy maintenance with all motors located outside of the body structure. Quick and agile, with a light kinematic structure, the newSmart5 NJ robot family has been designed to reduce weight and overall dimensions, to obtain better performance as well as a reduction in cycle-time and power consumption (up to 25% less than similar models), and it is in complete observance of eco-compatibility and safety requirements.
Equipped with the state of the art C5G controller.
The C5G control uses the latest generation of industrial PC's APC820 with Core2 Duo technology CPU which is capable of obtaining high performances with low energetic consumption
Energy saving
• Lowest consumption in stand by, low consumption during operations • Cooling system proportional to control unit's operations
• Energy network recover system with a high dynamic content program
Flexibility and reliability
The new generation of eld busses based on Hilscher technology, integrated by B&R in their remote I/O X20 family, guarantees a exible and reliable interface in every customer application. Modular interfaces are available, such as digital I/O, analog I/O and for many kinds of position transducer encoder, resolver, etc.
Safety
Integrated in the SDM module, TUV certi ed (dual channel emergency stop, enabling device, logic drive enable) unbrake function on the robot arm and interlock function for human- robot cooperation
Modularity / expandibility
Modular system for drives up to 13 axes in the base cabinet function of the power, and the robot model
Simultaneous management of several robots
Hardware architecture designed to manage up to 16 axes in "multi-arm" con guration with application box
3D off-line programming with Robosim Pro
Multi applications management
Possibility to manage many applications at the same time
C5G open controller: to become the real drivers of the robot's motion
It allows the development of customized motion algorithms and special applications with the use of sensors
Main software functionalities available
• Automatic Payload Identi cation: automatic identi cation of the payload to optimize the robot movement
• Collision Detection: emergency stop of the robot in case of a collision to protect the mechanic and the equipment
• Cooperative and Synchronized Motion: coordinated and simultaneous management of several robots and auxiliary axes (linear track, servo gun, positioners and other application equipment)
• Conveyor and Sensor Tracking: tracking of parts in motion on linear and circular conveyors. Precision in following the path by use of different types of external sensors
• Joint Soft Servo Technology: the capacity of the individual robot joints to yield to external forces that are required by the specific application
• Interference Regions: regions of various shapes can be dynamically defined for limiting the robot working space
• Robot Absolute Accurancy: algorithm for the adaptation of the actual kinematics to the theoretical model programmed off -line
General technical specifications
Maximum load of robot: 110 kg
Maximum Reach: 2980 mm
Repeatability in position: 0.07 mm
Controller: C5G
Robot motion speed in º/s 
Axis 1: 110º/s
Axis 2: 110º/s
Axis 3: 110º/s
Axis 4: 190º/s 
Axis 5: 190º/s 
Axis 6: 230º/s 
Range of motion (Axis 1 to 6)
Axis 1: +/- 180º
Axis 2: +95 to -75º
Axis 3: +10º to -256º
Axis 4: +/-280º
Axis 5: +/-120º
Axis 6: +/-2700º
View full details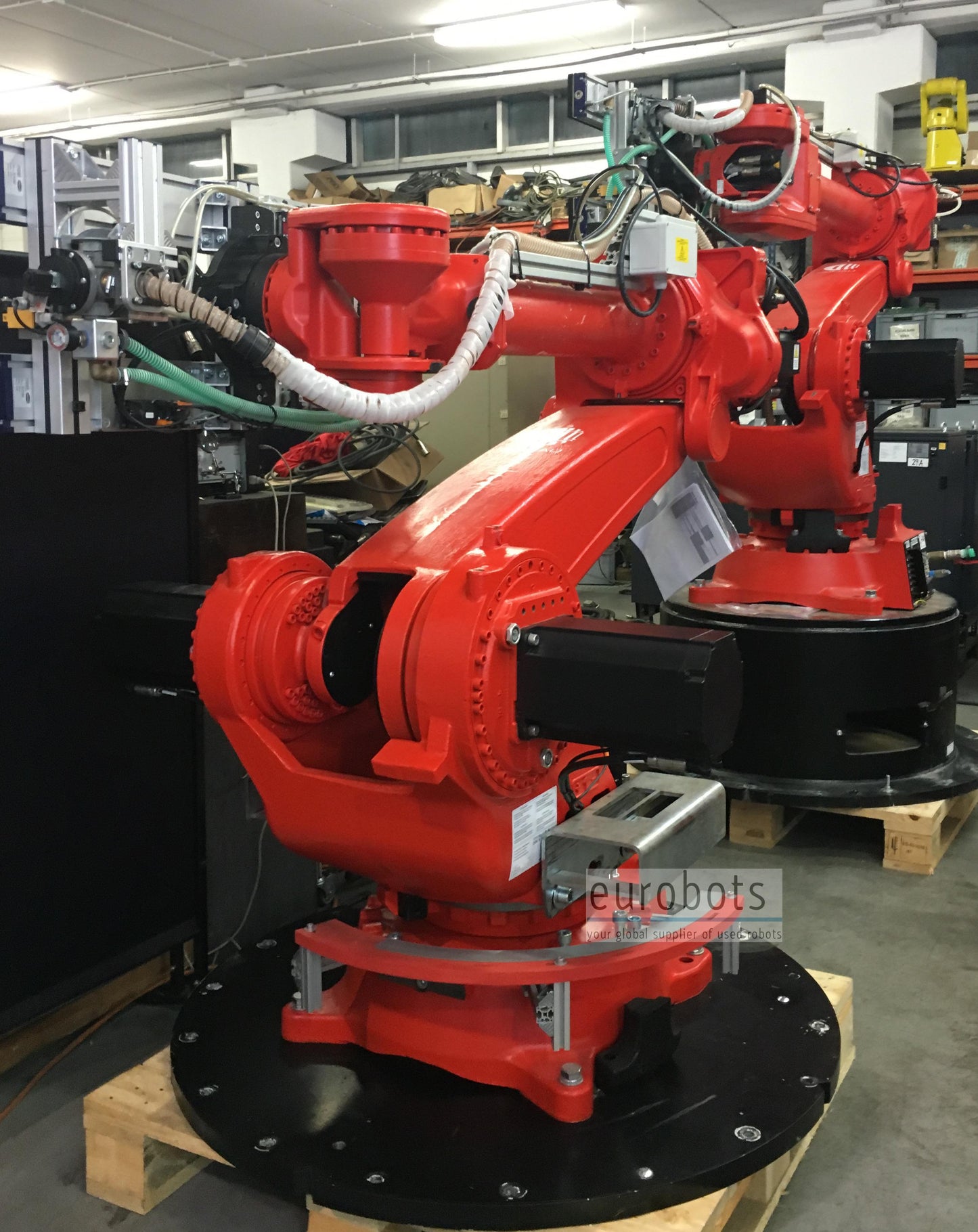 Choosing a selection results in a full page refresh.
Opens in a new window.