The kawasaki k series specially designed for painting applications with advanced technology equips with functions that allow greater productivity, has an easy incorporation of the system with an intuitive graphic interface control panel that allows users to operate and control the entire robotic process providing complete information on production management, data configuration, statistical data on production, modification of coating requirements, paint consumption. It has a flexible programming system using two Kawasaki Block Step or AS programming methodologies, the structure of its hollow wrist arms allows the use of internal hoses to minimize contamination. The KF121 robot is one of the small designs of this K series for handling and painting small parts.
Main specifications
 
Maximum Load of Robot: 5 kg
Number of axis: 6
Maximum horizontal reach: 1,240 mm (Distance from the center of JT1 to the center of JT5)
Repeatability:  ±0.2 mm
Controller: E37/E47/E27     
       
Motion range (°)
 
JT1: ±160°
JT2: ±90°
JT3: ±150°
JT4: ±270°
JT5: ±145°
JT6: ±360°
 
Maximum speed (°/s)
 
JT1: 220°/s
JT2: 120°/s
JT3: 240°/s
JT4: 430°/s
JT5: 430°/s
JT6: 720°/s
 
Robot applications
 
Painting
View full details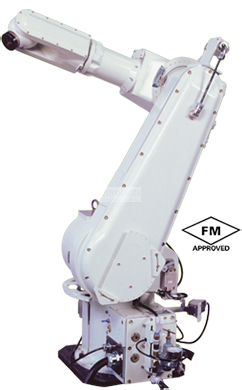 Choosing a selection results in a full page refresh.
Opens in a new window.