Year 2001. Equipped with the powerful Rj3 controller. The Fanuc P-120 is a high-quality painting and coating robot with precision control and fast axis speeds. Production costs are lowered as a result of reduced cycle times and minimized paint waste. Featuring six axis of motion and a large working envelope, the Fanuc P-120 has a payload capacity large enough for a wide range of spraying applications.

The P-120 is equipped with advanced motion software that communicates information to improve the paint finish. The wrist designed has been designed to allow for mounting on either side of the part for maximum flexibility. This robot is approved for operation in hazardous environments such as Class I and II, Division I, and Groups C, D, E, F, and G.

The P-120 robot is a six axis articulated robot with rotary joints and FANUC AC servomotors. The robot uses a four bar mechanism for axis 2 and 3 with the trailing arm behind the inner arm and both gear trains and RV type reducers. Axis 1 has a two stage gear train. Axes 2 and 3 have RV
reducers. Axis 4, 5, and 6 use drive tubes and bevel gears with a 90 degree offset wrist design. The P-120 robot is capable of paint speeds up to 2000 mm/sec. This speed can be obtained anywhere within the robot's envelope. The payload capacity is 5.0 kg at a 60 mm offset. With the specified payload, the static repeatability is ± 0.2 mm.
Robot Info:
Maximum Load of Robot: 5Kg.
Maximum Reach: 2409 mm.
Repeatability: 0,5 mm.
Controller:RJ3
Robot Motion Speed:
Axis 1: 105º/seg
Axis 2: 143º/seg
Axis 3: 125º/seg
Axis 4: 400º/seg
Axis 5: 600º/seg
Axis 6: 700º/seg
Robot Applications:
View full details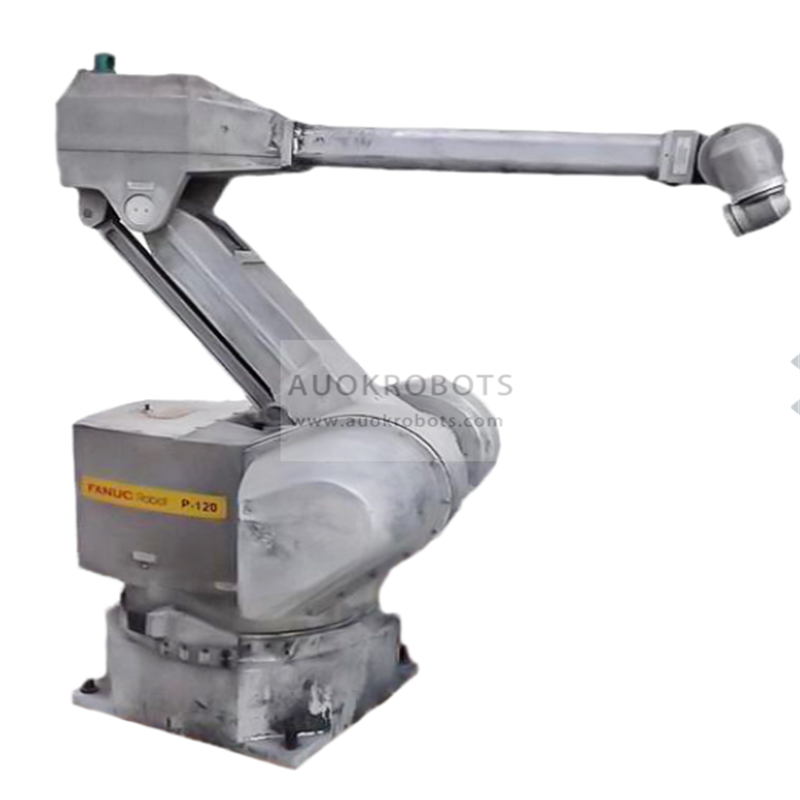 Choosing a selection results in a full page refresh.
Opens in a new window.